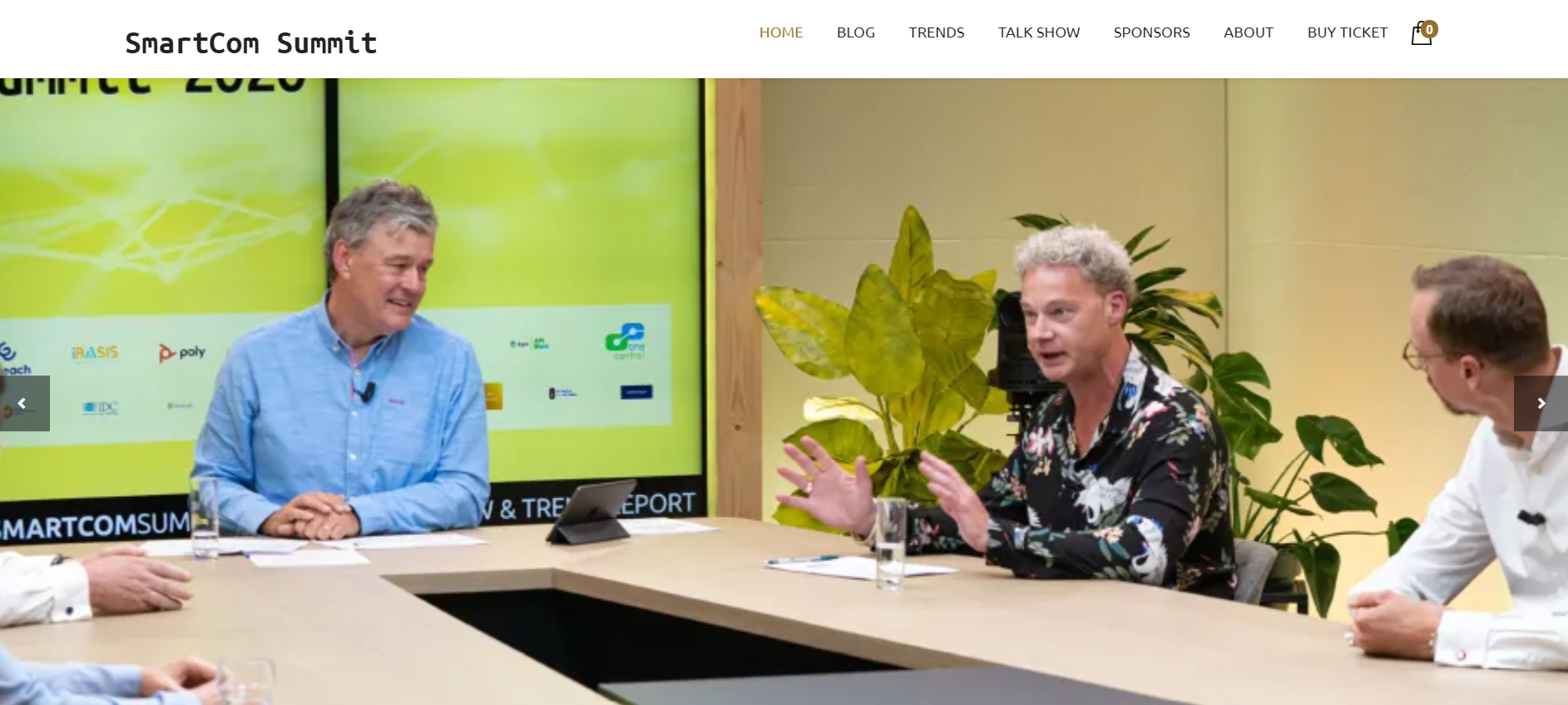 Case, Creatie, Distributie
SmartCom Summit 2020; online platform over de belangrijkste trends in Smart Communications
Eerste online talkshow en trendrapport zijn een feit
De afgelopen weken zijn we druk geweest met de opzet en organisatie van SmartCom Summit 2020 in samenwerking met innovatiebureau, The Next Cloud, en smart event agency, DDG. SmartCom Summit is een internationaal platform over alles wat met Smart Communications te maken heeft. De eerste grote activiteiten van het platform waren de live online talkshow, gepresenteerd door Charles Groenhuijsen en Rob Kurver en het rapport over de vijf belangrijkste trends in smart communications en digitale infrastructuur op dit moment; Work Anywhere, Smart Everything, Cloud & APIs, CPaaS and Broadband. Afgelopen 30 juni vond de eersteuitzending van de talkshow plaats, met experts uit binnen- en buitenland, en deze week ontvingen alle deelnemers het dynamische trendrapport.
Vanuit The Robins heeft HP heeft het rapport samengesteld en zich bemoeit met de inhoud van het programma van de talkshow. Samen met DDG heeft hij de video's verzorgd voor de sponsoren. Dominique heeft het project begeleid, de website opgezet en de opmaak van het trensrapport voor haar rekening genomen. Michiel heeft alle visuals verzorgd en Willemijn heeft de contentstrategie uitgewerkt die nu uitgerold gaat worden.
We zijn trots dat we onderdeel uitmaken van dit project. Het resultaat mag er zijn (al zeggen we het zelf). Het aantal kijkers naar de eerste talkshow was boven verwachting en in de relatief korte tijd hebben we een interessant gesprek in de branche aangezwengeld. Meer edities gaan volgen. We nemen de lessen en kijken waar we het format kunnen optimaliseren. De samenwerking met Rob Kurver en het team van Ester de Graaf was intensief, inspirerend en vooral heel leuk. Met elkaar bouwen we aan een platform waar verdieping op het onderwerp centraal staat.
Op de website van SmartCom Summit vind je de highights van de eerste talkshow, per trend de verschillende onderdelen van de talkshow, het trendrapport en de agenda voor komende talkshows.